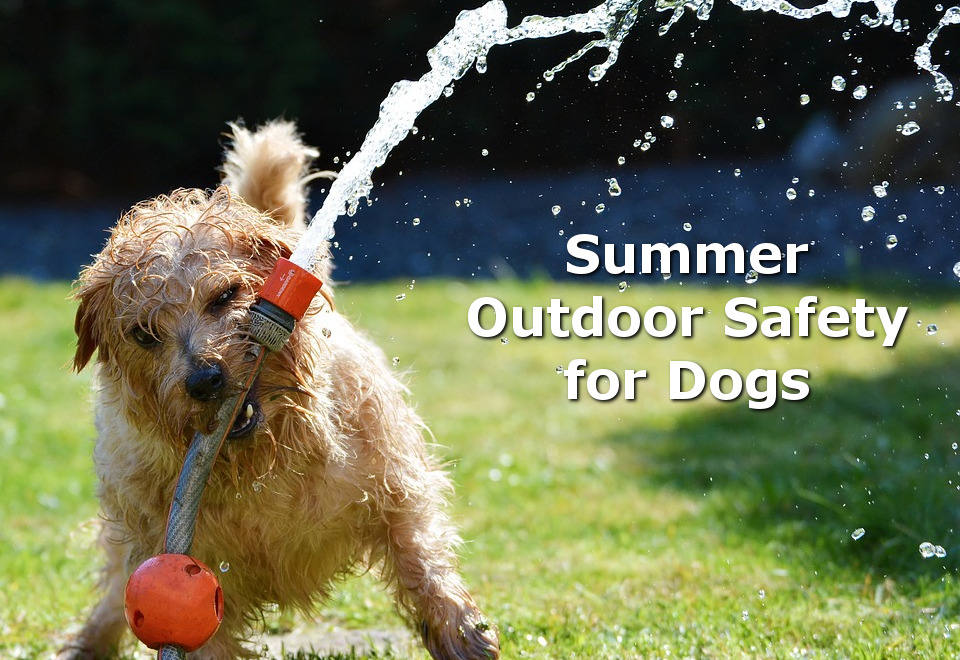 Summer is finally here! This means sun, fun and outdoor activities, many of which can be shared with your dog. However, longer daytime hours and warmer temperatures bring hazards with them. Be cautious of those summer hazards so that you can enjoy a carefree and safe summer with your best friend! All Pets Veterinary Medical Center has compiled a list of tips to help you keep your dog safe when outdoors this summer.
All Pets Tip #1: Keep Your Dog Indoors When Possible
Signs of heat exhaustion begin with stress and heavy panting, often accompanied by dry or bright red gums, thick drooling, vomiting or diarrhea or wobbly legs. This is extremely dangerous for your dog and can lead to brain damage or death. Knowing the signs is critical to prevent heat exhaustion from happening to your pet. Keep your dog cool indoors with a fan or air conditioning. If it is too warm for you, it is definitely too warm for an animal with a furry coat.
All Pets Tip #2: Never Leave Your Dog in a Hot Car
It can take a matter of minutes for a pet to develop heat stroke and suffocate in a car. Many don't realize how hot it gets in parked cars. For example, on a 78 degree day, temperatures in a car can reach 90 degrees in the shade and top 160 degrees if parked directly in the sun. Ideally, you should leave your dog home on warm days. If you are driving around on a summer day with your dog in the car, make sure to bring water and always take your dog with you when you leave the car.
All Pets Tip #3: Apply Sunscreen to Your
Dog When Outdoors
Skin cancer is a common form of cancer in dogs. While their fur provides some sun protection, your dog needs a sunblock applied every 3-4 hours on their least hair-covered spots: belly, ears and nose. The sun protection you use should be made specifically for pets so you know it's safe. Ingredients such as zinc oxide can be toxic to pets.
All Pets Tip #4: Keep Your Dog Safe When Playing in the Water
While dogs instinctively know how to swim, this doesn't mean they know how to get out of a pool. If they jump into a pool, they may not be able to get out without help and could possibly drown. Using the stairs with your dog 5-10 times in a row can help teach your dog an exit strategy. In addition, a pet pool ramp in the deep end may also be helpful. If you going boating you may want to consider a brightly-colored life vest to help him stay visible and afloat in the event of an accident.
All Pets Tip #5: Keep Your Dog Protected from Fleas, Ticks and Mosquitoes
If your dog is not protected, he is at risk for
heartworm
, Lyme disease, Rocky Mountain spotted fever and a host of other nasty and dangerous conditions. Also, don't forget that many of these diseases can be spread to people as well. All Pets Veterinary Medical Center has treatment options available for fleas, ticks and mosquitoes.
For more information on how to keep your dog safe outdoors, don't hesitate to contact us here at All Pets Veterinary Medical Center with the link below!