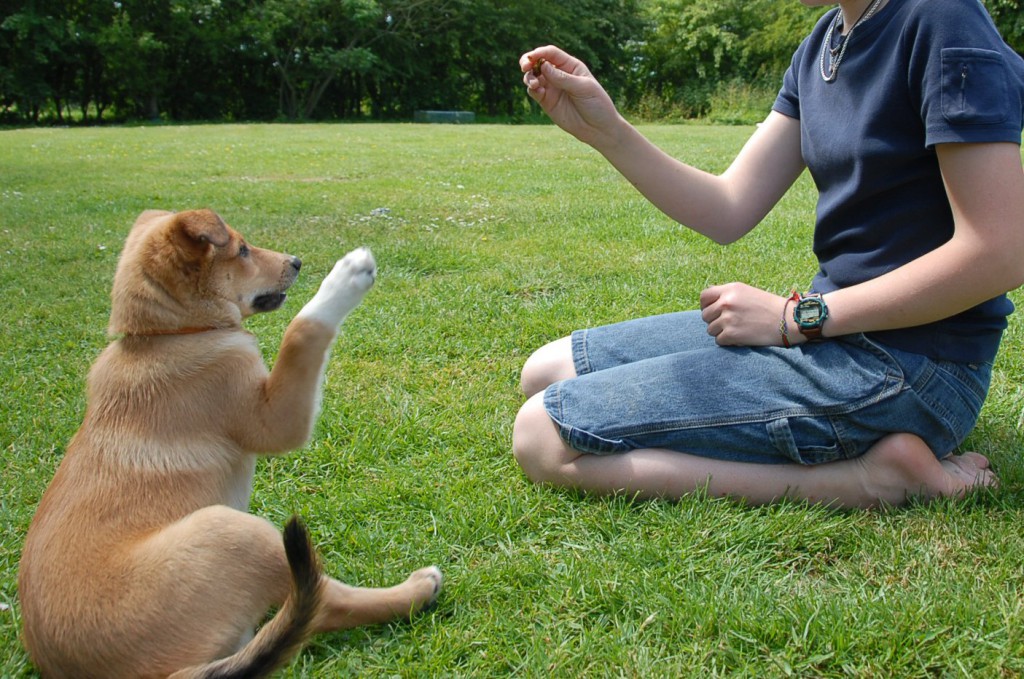 Many pet owners have probably tried Skyping when their dog is around, and he or she is probably very confused. They may hear the voice on the other end call his or her name, but are unsure why he or she is being beckoned by the iPad. The same thing probably happens when dogs are barking or growling on TV. Your dog may rush to the set, wanting to get in on the action, but can't seem to find the play group.
Those who are truly tech savvy may know that there are plenty of apps available that can turn your pets into gamers and technology that will let your furry friend take care of their own social media accounts. Here's just a few of the cool technologies that are available for your pet.
Fun and Games
Many cats enjoy sprawling out on keyboards or laying across laptops when you are trying to work. Dogs can also get jealous of the time you spend on your screens that doesn't involve petting or playing with them.
So keep your four-legged companions occupied with iPad games specifically designed for cats and dogs. You can work or binge-watch while they swat at fish or pounce on fruit on their own screens.
Member of the FutureLab research team at the Polytechnic University of Valencia in Spain, Patricia Pons, studies how computers can help animals lead happier lives. She told NPR, "We aim to develop interactive games using technology, which can adapt to the animals' species and personality in order to make the playful activity more engaging and suitable. This could potentially help pets avoid stress when they are left alone at home, as they could play with these systems by themselves."
If you choose to let your furry friend play games on your iPad, you may want to consider investing in a heavy-duty screen protector before you turn your iPad over to your pets. Some pets can get extremely excited and really whack and bite at the devices.
Posting On Social Media Accounts
If you spend way too much time posting photos and status updates on your pet's social media accounts, wearable technology can let your pet do it by themselves. The Posting Tail was recently introduced by Pedigree (with help from Saatchi & Saatchi, Madrid), which is a dog vest that lets dogs post photos to social media when they're most excited — that is, when their tails are wagging.
There is a built-in Raspberry Pi processor in this device that "reads" how happy your dog is by how vigorously he or she is wagging his or tail. When incredibly psyched, the camera will take a photo which is automatically uploaded to the dog's social media accounts. Images are taken from the back of the dog's head so you see what your dog is seeing. There is even GPS data so you get an idea of your dog's favorite happy places. The sensors are also supposed to be able to tell the difference between a normal tail wag and a really happy tail wag so it won't snap pictures all day if you happen to have a generally waggy dog.
There's a similar device that does this for cats on Twitter. According to Tech-On, a gadget from Sony Computer Sciences Laboratory has a camera, GPS, accelerometer and Bluetooth tech to record your cat's activities. The device uses the data to sense whether your cat is eating, drinking, playing or sleeping and can automatically post one of 11 phrases on Twitter. For example, "This tastes good!" The device is simply worn around the cat's neck, and it's still in prototype stage.
Watching TV for Dogs
While you could just find a Netflix movie with a canine sidekick or a rom-com with a dog next door, if your dog is home a lot by himself, he or she won't have this luxury. You may want to consider signing up for DogTV. This cable network started deliver 24-hour programming for dogs a few years ago. It features three- to six minute segments ranging from relaxing snippets of soothing music and visuals to muted doorbells and vacuum cleaners to help expose your pup to possibly aggravating stimuli.
Stanley Coren, professor of psychology at the University of British Columbia, told the New York Times that it could possibly keep your dog happy (and nondestructive) while you're out of the house all day. Coren creates a series of dog DVDs called "The Dog Companion".
According to Coren, "Dogs have terrific sensitivity," which means the illusion that makes still images on a TV appear moving won't fool dogs as easily as it fools people. "For many dogs, that's a turn-off. It doesn't look real to them." He suggests placing the TV at your pet's eye level to increase the odds that your dog will pay attention to it.
Dog-Walking Drones
Many may have seen the recent video of the drone taking a golden retriever for a walk around the neighborhood. While videographer Jeff Myers raised some eyebrows with this, the seemingly good-natured Lucy was game enough, but some dog lovers only weren't to keen on that much tech. The video had mixed reactions among many pet owners, including one, Issac Saul at Huffington Post stating, "What's the point of owning a dog if you automate the whole experience?"